Pan Seared Salmon with Creamy Spinach and Tomatoes
Pan seared salmon served in a creamy sauce with garlic, spinach and tomatoes. It's an easy weeknight meal and a delicious seafood dish to serve at your next dinner party!
So I mentioned I'm trying to eat a little bit healthier and well, regardless of it you're doing it for your health or you just really love salmon, this recipe is a hit! It has flavors of spinach and tomato with basil and garlic as well. Serve it over a bed of lemon rice (or lemon cauliflower rice) for a bright, refreshing and flavorful meal.
I start by pan searing some salmon. And if you've ever run into issues cooking fish, like torn skin, fish that sticks to the pan, or a dry, stringy fish I've included some helpful tips.
How to avoid dry, overcooked fish
So just like a steak, salmon has stages of doneness.
110 and below – Rare The salmon is still translucent and a deep orange/red color. This is a texture ideal for sashimi.
110 to 125 – Medium Rare The salmon looks a little cloudy or opaque, but is soft, juicy and without a gritty or chalky texture.
125 to 140 – Medium to Well Done The salmon gets flakier and chalkier, but isn't too intense. The salmon starts releasing albumen – the white stuff that comes out of the connective tissue, similar to what happens with chicken.  A good restaurant will serve their salmon close to medium – tender, juicy, relatively flaky without getting chalky and little to no albumen.
140+ Super Well Done The salmon is hard, chalky and dry and often lacking in flavor. This salmon shows signs of buffet style – a fish that has been sitting out for far too long and looks more white than pink.
I serve my fish medium for the best flavor and texture. This temperature guide is just another reason why I always keep a meat thermometer on hand – to make sure I stay below 140 as much as possible.
To help avoid overcooking, I suggest searing your salmon skin on, even if you plan to serve it skinless. The skin acts as a barrier on the salmon, which helps it cook gently and evenly and also indicates when the salmon is ready to flip.
One of the most common mistakes seen in beginners is they don't let the pan preheat enough. Don't put your oil and fish straight in the pan and wait for it to heat up. Preheat the pan before adding everything – the pan needs to be hot enough that the skin on the fish cooks instantly and binds to itself rather than the pan.
Also watch your oil. When it is shimmering (you can almost see waves in the oil), not smoking, add the salmon skin side down. You'll want to spend the majority of the cook time with the salmon skin side down. We flip in the last 60 seconds just to give it some color and cook through the other side.
Another thing that helps with salmon and its sticky skin is to get your fish as dry as possible before cooking. Pat it dry with clean paper towels and let it sit out at room temperature for about 10 minutes if possible. A cold, wet fish will rapidly reduce the heat of the pan, which will keep the skin from cooking quickly enough and cause it to stick.
When salmon hits a hot pan, it tends to curl up. This makes it cook unevenly. It's easy to combat – just use a flexible fish spatula to press down on the salmon fillet. This only takes about 15 seconds, but it's important to do each fillet one at a time so you have enough hands to press each one.
The skin will also tell you when it is time to flip – don't force it out. Some gentle prying is absolutely fine, but if it's really stuck that just means it needs a little more time to release. Another situation in which our flexible fish spatula comes in handy.
Keeping these things in mind will help you pan sear the best salmon ever! It's the star of this dish and the perfect vehicle for this tasty, creamy sauce.
Until next time. X
Show us your food! Use #aftbeats for a chance to be featured on our Facebook or Instagram!
This post contains affiliate links. While at no extra cost to you, purchasing an item using one of these links provides us a small commission.
Pan Seared Salmon with Creamy Spinach and Tomatoes
Print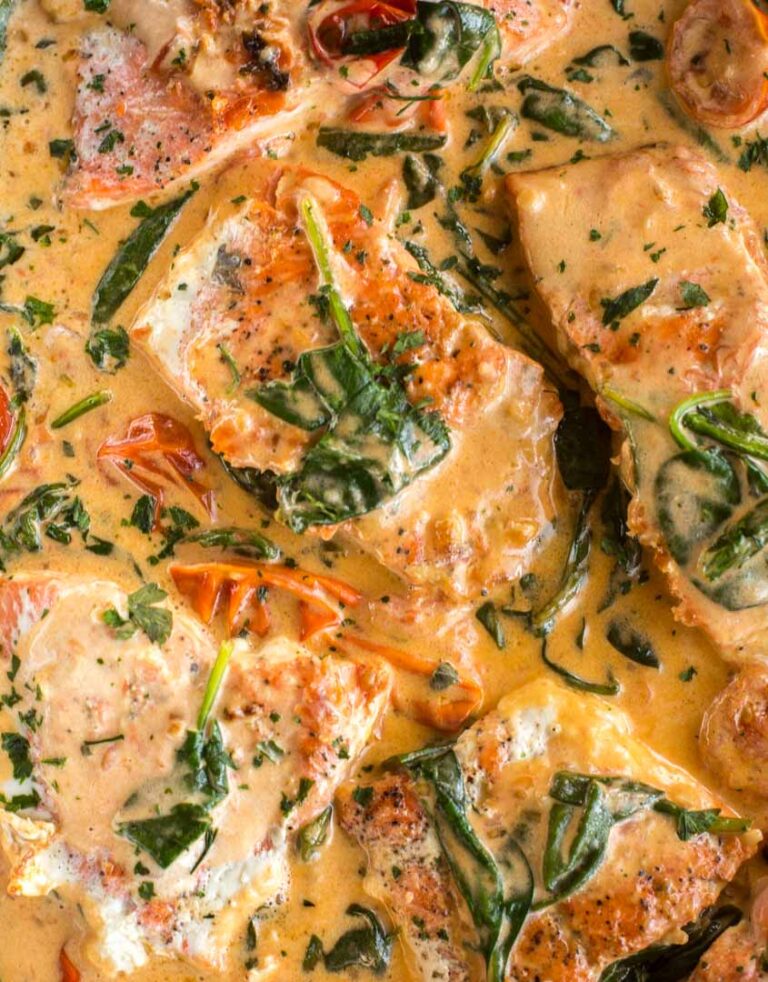 Pan Seared Salmon with Creamy Spinach and Tomatoes
Pan seared salmon served in a creamy sauce with garlic, spinach and tomatoes. It's an easy weeknight meal and a delicious seafood dish to serve at your next dinner party!
Total Time:

30 minutes

Yield:

4

servings

1

x
2 Tbsp

olive oil

4

6oz salmon fillets, skin on and patted dry
salt
pepper

3 Tbsp

butter

4

cloves garlic, minced

1 1/2 cups

cherry tomatoes, halved

2 cups

fresh baby spinach

1/2 cup

heavy cream

1/4 cup

grated Parmesan cheese

1 Tbsp

chopped Italian parsley

4

leaves fresh basil
Instructions
Place the olive oil in a large skillet over medium high heat.
Sprinkle salt and pepper over both sides of the salmon.
When the oil is shimmering, place one salmon fillet skin side down and gently press on the top with a flexible spatula to keep the salmon from shrinking for 15-20 seconds. Repeat for every fillet.
Reduce heat to medium and cook all of them for 6-8 minutes, or until the salmon changes color (gets paler) about two-thirds up the sides for an internal temperature of 120°F.
Flip and cook for another 60 seconds. Remove to a plate and set aside.
Add butter and deglaze the pan (scrape up brown bits from the salmon, if any).
Add the garlic and saute for about 1 minute, or until the garlic is fragrant and not burned.
Add the cherry tomatoes and simmer for 5 minutes, or until the tomatoes start to burst.
Stir in the spinach and cook for 1 minute, or until wilted.
Stir in the heavy cream, Parmesan and Italian parsley.
Reduce heat to low and simmer for 3-5 minutes.
Place the salmon back in the skillet and garnish each with a leaf of fresh basil.
Spoon the sauce on top and cook for 2-3 minutes.
Serve immediately on a bed of lemon rice or roasted veggies.
Notes
tools
large skillet
flexible spatula
Cook the salmon 120°F for medium-rare, 130°F for medium or 140°F for well done.
Author:

Sarah | AwayFromTheBox

Prep Time:

5 minutes

Cook Time:

25 minutes

Category:

Main Dish

Method:

Stove

Cuisine:

Italian American
Keywords: pan seared salmon, salmon with spinach and tomatoes, creamy tuscan salmon
Recipe adapted from Cafe Delites